The CurlPerfect™ Lash Lift curls and enhances natural lashes for 6-8 weeks. However, depending on the natural lash cycle & health, results can last up to 12 weeks. Using silicone shields and a series of cream solutions, the CurlPerfect™ Lash Lift curls, sets, and conditions natural lashes leaving you with long-lasting, natural-looking lift. Tinting is recommended with this service but not required. The process takes roughly 45 minutes and is pain free, safe, and requires no maintenance!
You MUST keep lashes free of water or moisture for 24 hours after your lash lift.

Eyes should be free of all makeup prior to your appointment.

After the 24 hour period, you are free to use whichever mascara, makeup removers, etc. that you like.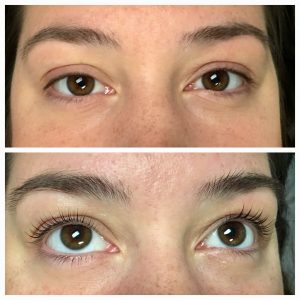 Please download the Lash Lift Waiver prior to your service.